Developer marketing is a diverse discipline that attracts professionals from all backgrounds with different skills – so, it stands to reason that there's a wide range of elements to consider.
After all, marketing to developers can take many shapes and forms: developer communities, technical content, personas, developer relations (DevRel), etc.
We've created this periodic table of elements to showcase the main components involved in developer marketing. 👇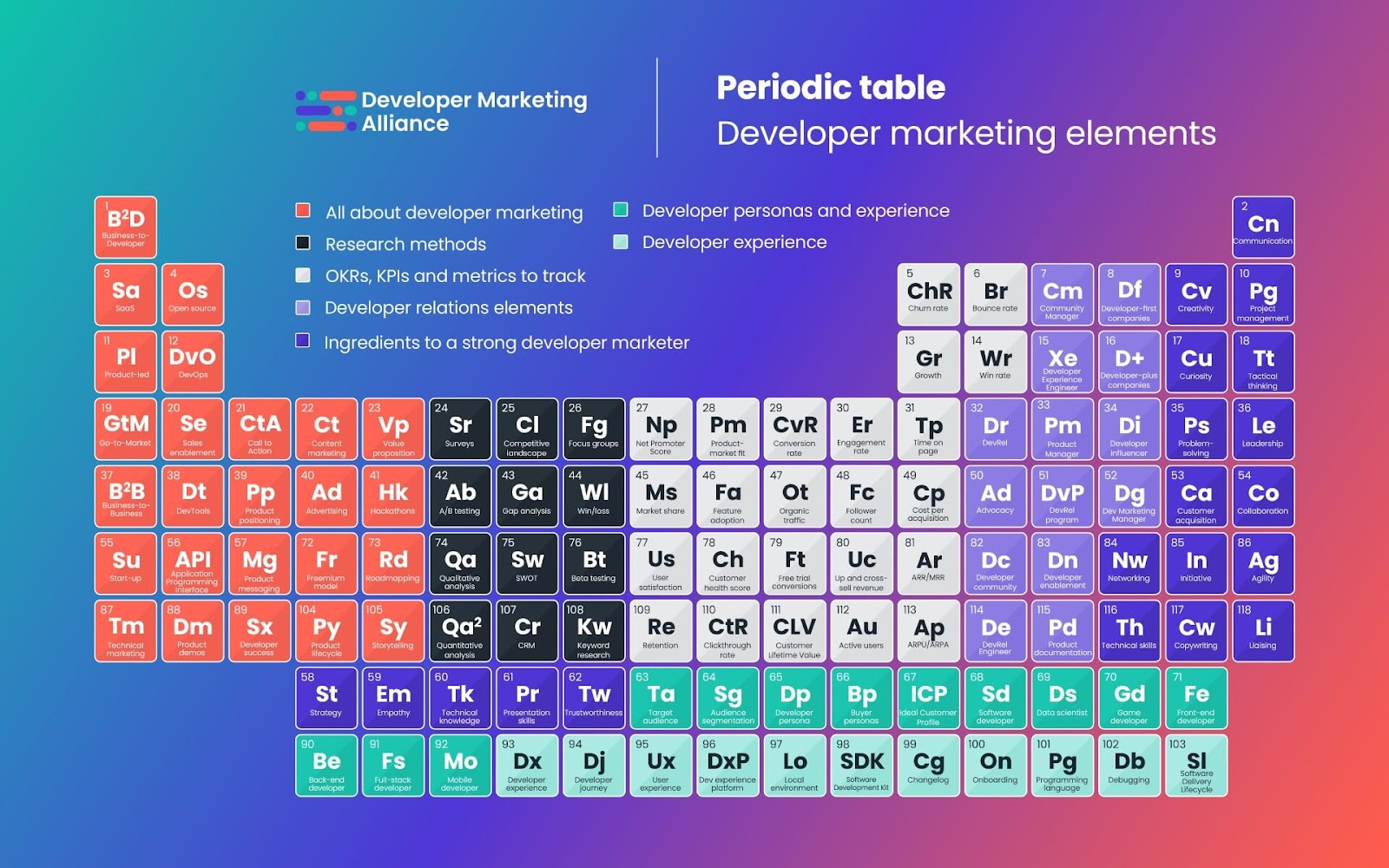 Want the table in poster form? Download the files for free below. And, if you'd like to share it on any of your socials, we'd appreciate the tag!
Also, don't forget to bookmark it for future reference. 🔖
How do you use the developer marketing periodic table?
This periodic table was created as a framework, so you can identify specific tactics and strategies that are most effective at driving growth and sales, as well as optimizing your developer marketing efforts.
There are many ways you can use this table to your advantage, so let's look at a few:
Improve your developer marketing
You can use the periodic table to help you better understand the elements that make up developer marketing to improve your strategies.
Developer marketing – also known as B2D marketing and business-to-developer marketing – is all about growing awareness, adoption, and advocacy of tech products and tools to a technical audience.
This type of marketing is different from more traditional tactics because it focuses on developers and includes specific strategies like community engagement and peer validation, as well as:
Product feedback
Hackathons
Free trials and freemium tiers
There are also many developer-first companies, like Twilio, GitLab, and Stack Overflow, that focus mainly on building and selling products designed specifically to be used by devs (so, they must prioritize the needs and preferences of this audience).
As you can see in our periodic table, there are many elements that make developer marketing, including DevOps, product messaging, roadmapping, product demos, developer success, go-to-market, and SaaS.
💡
Enroll in our
Developer Marketing Certified: Core
course to get the basics down, access expert-led lessons and hands-on exercises that'll equip you with a rock-solid foundation of marketing knowledge.
Step up your research game
You can't have marketing (or, at least, successful marketing) without thorough research! This is a crucial aspect of developer marketing, since it allows you to better understand your developer personas, such as their pain points, needs, behaviors, and motivations.
It also allows you to stay on top of the latest trends and news, know what your competitors are up to at any given moment, and find out what your audience is looking for.
Some of the key elements of research in developer marketing include:
SWOT analysis
A/B testing
Surveys
Keyword research
Gap analysis
You can find these in our periodic table; feel free to bookmark so you can refer back to it whenever you need!
---

---
Consider the OKRs, KPIs and metrics to track
Without metrics, how can you tell whether your marketing efforts are working? You need to measure the impact of your strategies to figure out what's working and what isn't, which will also inform future marketing decisions.
On top of this, you must know which KPIs (key performance indicators) and OKRs (objectives and key results) you want to measure.
Whether you want to implement a developer advocate program, want to boost sales of your product, or grow the number of SaaS subscriptions, it's important to pick the right metrics, KPIs, and OKRs from the get-go.
These can be:
Churn rate
Organic traffic
Market share
Click-through rate
Number of active users
Engagement rate
Growth
---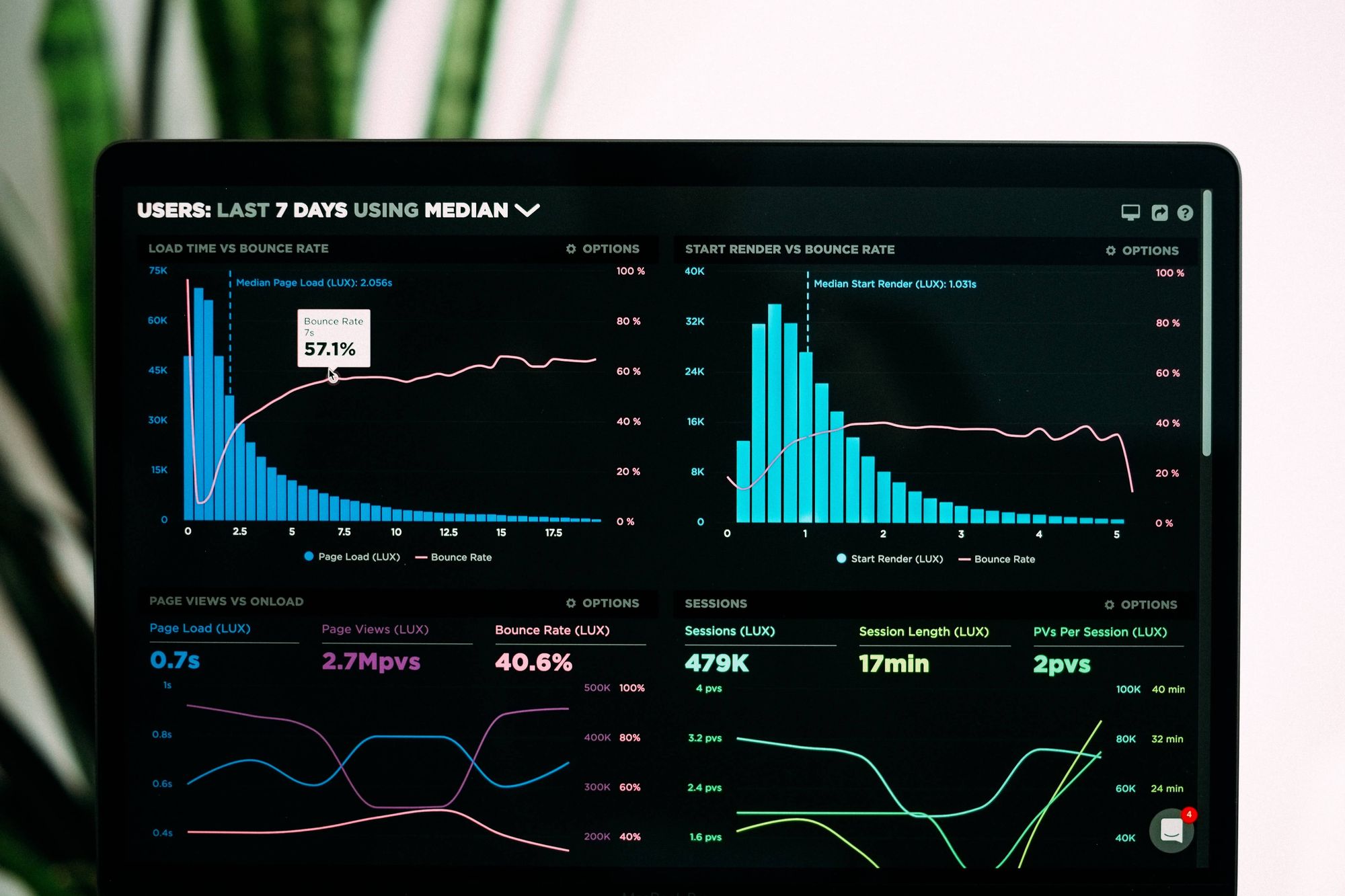 ---
Know the key developer relations elements
Developer relations, or DevRel, is an umbrella term that covers the strategies and processes used to foster and maintain relationships between developers and companies.
Chris Riley, Sr. Manager of Developer Relations at Hubspot, has this to say about the definition of developer relations:
"To me, DevRel, at its foundation, is a strategy before it is a function. And the reason I say that is that there's other similar concepts out there like DevOps, because there are multiple teams within a company.
"So, developer-first companies and companies who are a platform and who do not call themselves DevRel but have interest in improving the lives of external developers. And so, to me, that is a shared strategy.
"They have a shared goal and they have a shared philosophy and approach to doing so. You could almost stop there and say that is DevRel, before you even go and start naming functions."
Depending on what you're looking to achieve in your company, the goal of a developer relations program can vary, though a common objective is an increase in product sales. With an estimated 29 million developers worldwide by 2024, getting your product in front of this huge audience is an opportunity you don't want to miss out on.
Marketing and advertising is used to ensure that a product reaches the right audience – so, it's crucial you understand developers and what they want, and choose tactics that can actually reach and resonate with them.
There are many activities involved in DevRel, so there isn't a one-size-fits-all approach you can choose. Instead, think about your audience's pain points and needs, your company's goals, the problems your product solves, etc., and go from there. A few examples of activities are:
Building and engaging with a community
Creating content
Using social media as a marketing tool
Hosting events
Investing in developer advocacy
Providing support to the community
Our periodic table helps you to keep track of what makes up DevRel, as there are a few crucial elements to consider so you can best leverage them in your marketing efforts. For example, developer relations includes elements like:
Advocacy
Developer influencers
DevRel programs
Developer communities
Product documentation
Sales enablement
---

---
Think about the ingredients to a strong developer marketer
What makes a great developer marketer? What skills do you need, whether you want to become a DevRel engineer or a product marketer? What soft skills should you develop as a leader in your field?
Developer marketers should possess key skills and knowledge that allow them to thrive in their role, and our periodic table already lets you know some of the most important ones:
Leadership
Tactical thinking
Collaboration
Technical knowledge
Problem-solving
Empathy
Networking
Think about your strengths and weaknesses and whether there are areas for improvement!
---

---
Build developer personas
You can also use the periodic table to create developer personas that help you better understand your target audience. The elements on the table show you some of common technical personas, as there are different types of developers to take into account.
A game developer will have very different needs, motivations, and pain points than a DevOps engineer.
"The developer isn't some unicorn, hard-to-figure-out persona. For all the promises that sales or marketing may make, developers end up building and delivering customer value. Apps must help users realize their goals, and provide an easy, secure, and consistent experience. Achieving all of that is hard work.
"Developers have to deliver working code under realistic timelines, all along as the footprint of their own job expands from writing code to instrumenting for security, monitoring, etc.
"No wonder developers are a skeptical bunch. In order to truly connect with developers, building trust and helping developers learn are the two key principles. Forget every other marketing instinct you have." – Aditya Tripathi, Principal product Marketing Manager at Elastic
---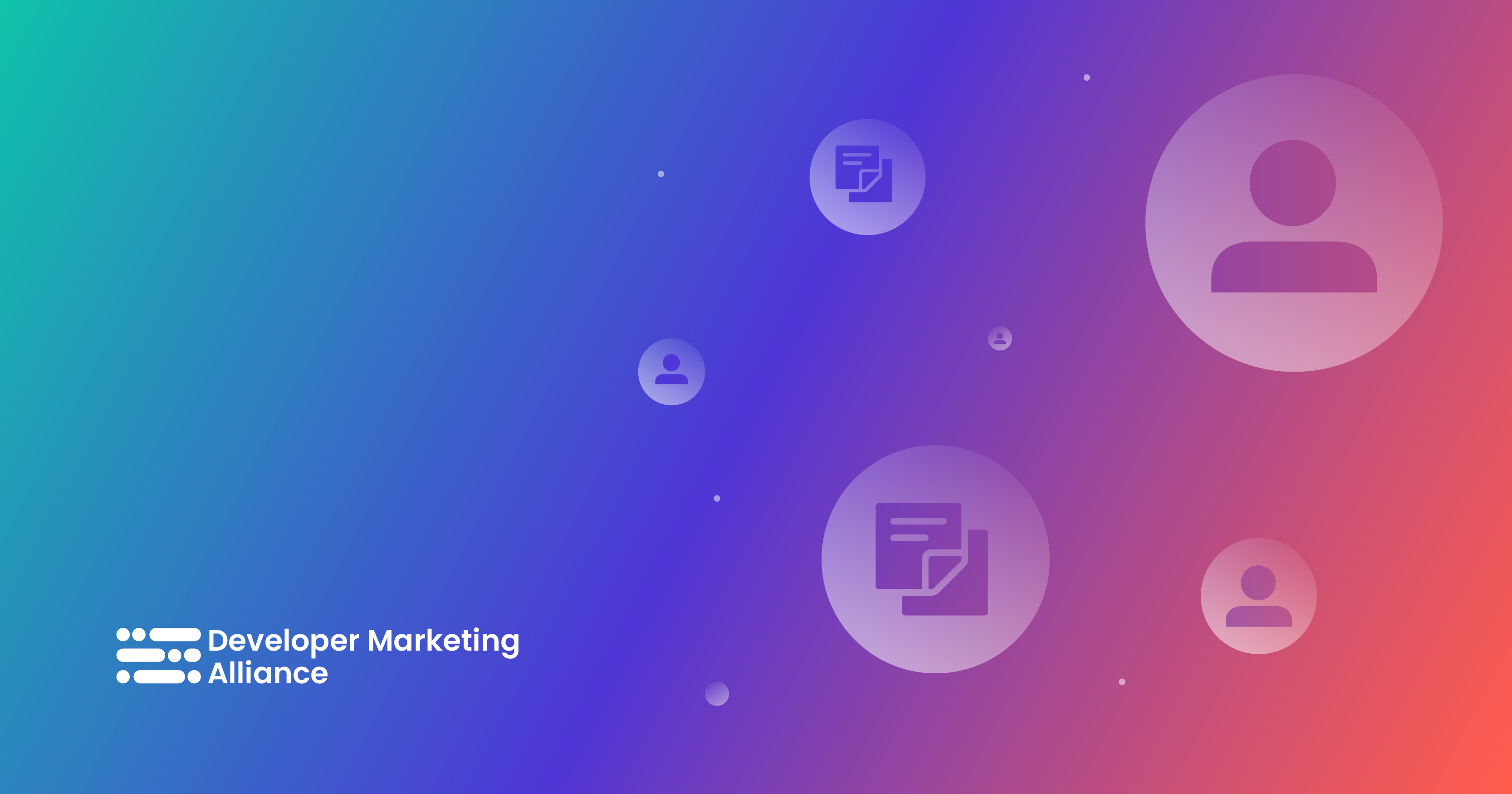 ---
Deliver the best developer experience
With our periodic table, you can also identify the elements that make up a good developer experience (DX).
For example, ensuring your product is debugged will help developers have a smoother experience and providing SDKs (software development kits) allows devs to play around and build on your product.
These are just a few examples, as there are plenty more elements that make up a good DX, such as a solid onboarding process, adding a changelog of all the changes made to a project, and creating a great platform that's intuitive, visually appealing, and easy to navigate.
"I've had a lot of debates about what developer experience is. I'm guilty (and I don't think this is true) of associating developer experience purely with the portal site, whatever you want to call it, where developers get access to your world. So, it's the entry point where developers go, and where they do their work with your product.
"But this could extend beyond the site. It could be your command line interface, which developer marketing probably doesn't have. It's for sure your documentation, it could be events, it could be what happens at events.
"I've heard people use it in the context of a single event or program. I don't agree. I don't think it's a single thing. I think when we use the words 'developer experience', what we're saying is that we want to do what's appropriate in our product to reduce friction and help developers be successful, build high quality solutions with us, or adopt our product in the team in the case of developer productivity tools.
"That's what I consider developer experience. In a way, it's similar to DevRel. It's kind of philosophical. So, it's a driving force that touches many things." – Chris Riley, Sr. Manager of Developer Relations at Hubspot
Download the developer marketing periodic table
Want the table in poster form? Download the files for free below. If you'd like to share it on any of your socials, don't forget to tag us!