Join the Developer Marketing Alliance community
Want a convenient way to talk to other developer marketers? You can network with our amazing community right here.
The Developer Marketing Alliance Slack community is the perfect place to connect with like-minded marketers across the globe. You'll be able to learn and grow alongside your peers, ask questions, find job opportunities, see the latest content, and much more.
Already a member? Head here.
How it works
Step 1: Sign up to the community by filling in the form above☝️.
Step 2: Join all the channels you want - there's no limit! Don't forget to drop a 'hello' in the #introductions channel.
Step 3: Get involved by answering questions, networking, and more.
Why join?
Just starting out? Ask experts for their insights. Got a few years under your belt? Network with other marketers.
☕️  Want to discuss the latest topics and trends? Grab a cuppa and get comfy - there are spaces where you can do just that.
💡 Stay on top of the latest info from  Developer Marketing Alliance, from hot blogs to events and more.
🔥  Done something fantastic? Show your peers what you can do and what your skills are - we all love discussing what excites us.
😀  And have fun! This is a community for you and for what you love to share insights with passionate marketers who are friendly and intelligent. Enjoy!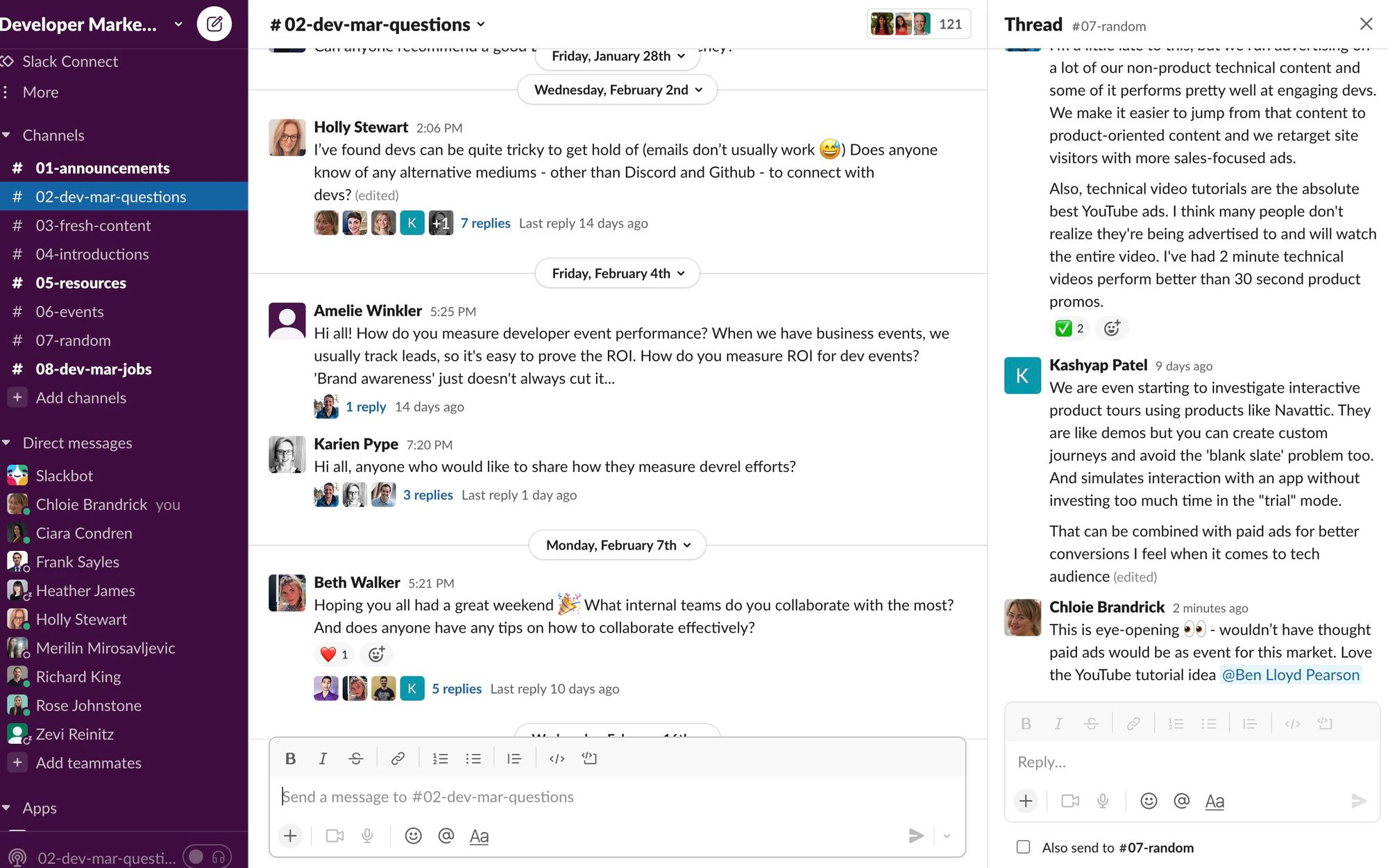 FAQs 🤔
How much does it cost to join?
Nothing! That's right, it's free and it always will be. Slack doesn't charge for a free account and neither do we.
Can I promote my company's products?
No, not really. We want our community to be a place for learning and sharing knowledge, not selling. We have sponsorship options you can check out if you're interested. If you see a conversation going on and you think your products might be a solution to a problem, you can mention it. But you must be open about your relationship with it.
Can I invite other people to join?
Of course! We love growing our community and we're always happy when more marketers want to join. If you know someone who you think would enjoy joining, send them this link.
Can I phone up a fellow member?
As long as they're happy for you to do so, then absolutely. Slack has a 1-to-1 in-built video call facility, meaning you can do everything in-app. It's easy and convenient.