Step up your developer marketing game with exclusive templates, frameworks, and content.
All the tools you need to succeed.
A world of resources at your fingertips to elevate your marketing strategies.
🤩 Exclusive content. An action-packed library of expert content written by developer marketers from orgs like Gong, Amazon, LinkedIn, and more. Added to every other week.
🛠 Templates & frameworks. To save you time, streamline your processes, and work off industry-standard documents. Updated every month.

🎬 On-demand event coverage. Keep up with our developer marketing events from afar, featuring brands like Google, Slack, and LinkedIn.

🔥 Expand your expertise. Take your developer marketing knowledge to the next level with our members' discount off courses and events, and early access to reports, survey findings, and updates from our community.

🤝 Create lasting connections. Network with fellow members with all levels of experience, ask away, and begin to reach new heights in your career. Together.
Psst. Wanna get a team subscription? Drop us a line on membership@developermarketingalliance.io for group rates.
A taster of what you'll get…
Exclusive articles, templates, videos, and more, put together for developer marketers from the likes of: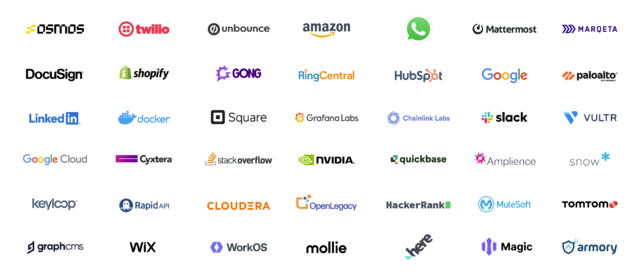 FAQs
What can you expect from us as standard?
Fresh and relevant content
A treasure trove of regularly-updated resources
Expert insights from industry peers
How long is the content available?
Forever! Once you become a member, all you need to do is to keep your subscription active and you'll have access to all the content, templates, videos, and more for as long as you want.
Do you accept requests?
Yes! At the Developer Marketing Alliance, we're always looking to improve our offerings, so, if there's something you'd like to see in your membership plan, let us know and we'll see what we can do.
This sounds great, how can I sell it to my manager?
Easy. At just $20 a month, if one idea sparks one change that converts just one customer, you'll already have made your money back. In reality, you and I both know the results will span far wider than that though.
Get in touch
Want to chat with us? Ask questions about our developer marketing membership? Any other queries we can help with? Just head to the live chat button at the bottom-right of your screen. 🙂