Slack Newsletter | Developer Marketing Alliance
March 31, 2023
This week at Developer Marketing Alliance
🔥Hot off the press🔥
Thought leadership for developers: Go beyond thoughts and avoid leading
Does the term 'thought leadership' make you want to run away? Developers probably feel the same! But Nick Moore knows how to create thought leadership content that devs love. 👌
How OpenAI marketed its ChatGPT API to developers
ChatGPT reached 100 million users two months after launch – and devs were part of that huge figure. They're a tough nut to crack, so it's clear OpenAI did everything right. Learn how. 😎
---
👥 Events 👥

🚨 Ask-Me-Anything with Chris Riley ☁  is happening in one week. 🚨
Chris will be answering your questions about Developer Content Marketing and the Developer Journey next Wednesday, April 5.
Make sure to join #ama-chris-riley channel in Developer Marketing Alliance Slack community to ask your questions! Feel free to ask your questions in advance, but no later than April 5!
When and where?
📅April 5, 2023
⏰ All day
💻#ama-chris-riley (join the channel by clicking the link)
More about Chris.👇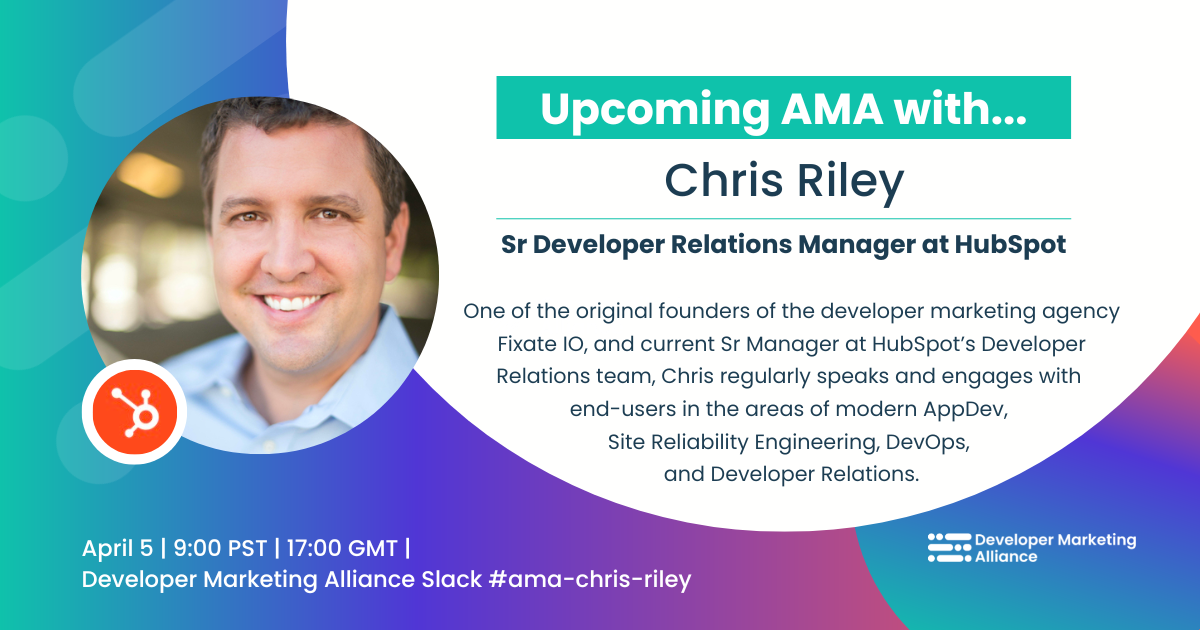 ---
Developer Marketing Alliance Drop-in Sessions 💻
We've now had our first two sessions and there are more to come! Keep an eye out for the next one!
Do you have a topic in mind and want to host one of our drop-in sessions? Contact @Tytti Hyysalo
---
⭐ Member Quote of the Week ⭐ ️

What's your advice for people working in developer marketing right now?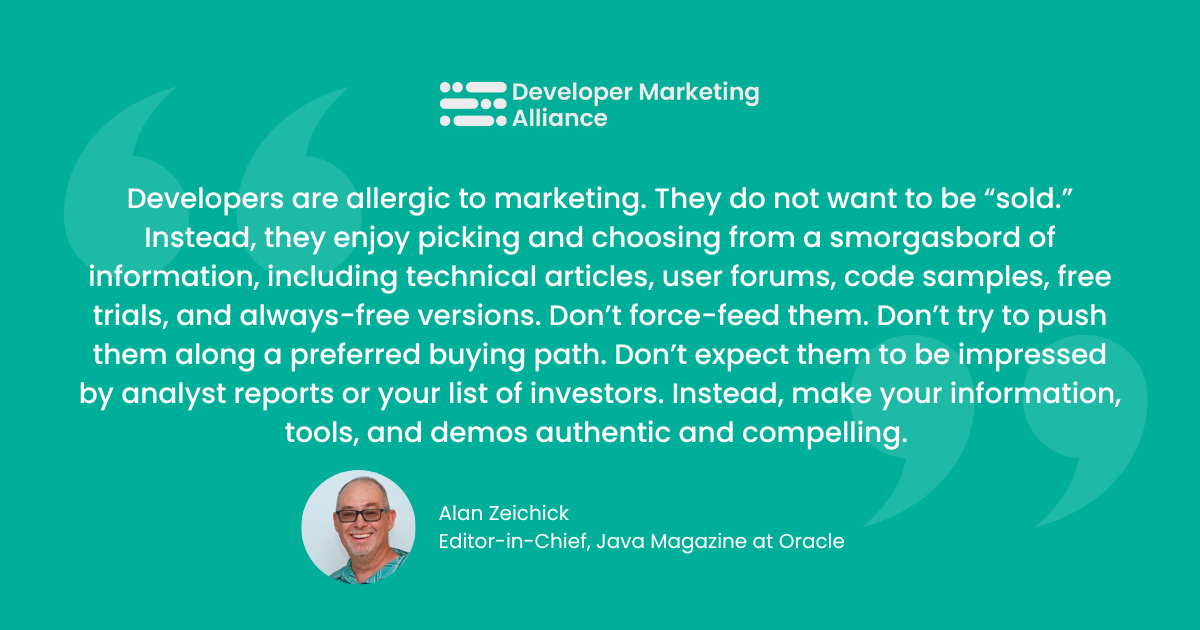 ---
🚀 Want to get involved? 🚀
We've been speaking with our ambassadors to create regular virtual panels and webinars for you all - if you have ideas on topics or would like to be involved - let @Tytti Hyysalo know!

We've started planning our meetups for the year! If you are interested in running a meetup either in-person or virtual, please let @Tytti Hyysalo know!

We're also looking for expert contributions for our growing content library.
Let @Teresa Garanhel know – via Slack or email (teresa@developermarketing.io) if you're interested in:
✍️Writing an article
🎙️Participating in our podcast
---
📚 Courses 📚

Developer Marketing Certified: Core
Whether you're a newbie or a seasoned professional, this program will help you break down the complexities of developer marketing and offer all the tools and knowledge to attract and retain developers.
💪 Truly understand what developer marketing is and why it matters in a world so reliant on tech.
⚒️ Successfully introduce a developer program to a company.
🧠 Grasp the function of developer relations and its role in forging strong developer communities and advocates.
Developer Research Certified: Masters
Want to gain a deeper understanding of developers and know what makes them tick? This course will give your research skills that all-important boost and show you how to successfully think like a developer.
🧠 Gain a deeper knowledge of your audience.
🤝 Make the most of your developer community.
🧑‍💻 Master the art of engaging with developers (including pain points and advocacy).
Developer Marketing Leadership Accelerator
Join us on a six-week live and interactive leadership program and equip yourself with distinct leadership styles to hone your skills, shape your career and gain tried-and-tested tools, templates, and frameworks to feed into your gold-standard developer marketing strategy.

---
🎤 Talking points 🎤

💬 Rebecca Boucher is wondering about the role of storytelling in developer marketing, and how it can be incorporated into a campaign. Add your insights here.
💬 Christina Graham asks how to balance technical expertise with marketing skills to create a powerful campaign. Let her know your thoughts here!
💬 Jay Joshi wants to know if there's a website or tool that can collate/source software deals (i.e., offer a reward to devs). Share your ideas here.
Do you have a question in mind?
Make sure to share your questions with our community in our #dev-mar-questions channel ⁉️
---

Have you taken a peek at the Developer Marketing Alliance membership plan yet?
What are you waiting for? There's plenty of resources for you to explore.

📝 Exclusive content written by the crème de la crème
🗒 Templates and frameworks to make your life easier
🎙️ Expert talks and event coverage OnDemand
% Amazing discounts

Explore membership.
---
💼 Job opportunities 💼

💼 Lucas Stahl is hiring a Marketing Manager at Pangea.
API-first security platform as a service company.
Small startup.
Marketing ops experience and lifecycle management.
This role is full-time, remote (US-based)
If you are interested please DM Lucas or, if you know anyone, let him know!
Details and link to apply here!
💼 Ali Hanyaloglu posted about a new opportunity in his team! Amplience is looking for a Senior Developer Advocate.
This role will be an evangelist within the developer community for headless CMS and MACH, and be an advocate for the needs of developers within the  company, working side-by-side with the PMM team.
Details and link to apply here!
💼 Vercel is hiring a Senior Social Media Manager.
⭐ If you are recruiting for DevMar/Devrel jobs, please share your job ads in our #dev-mar-jobs channel.
If you come across an interesting job ad, feel free to share it as well to help others find new opportunities.
---
👥 Find us on LinkedIn 👥

Don't forget to follow our company page Developer Marketing Alliance on LinkedIn!

On our LinkedIn page, we share more recourses, community updates, live videos and lot more!
---
👂 Feedback👂

We're on Trustpilot and your candid feedback about our community is needed!

⭐️ Click here to leave a review.
---
🗣 Refer a friend 🗣

The Developer Marketing Alliance is a community that's only as good as its community members. We truly believe in the power of community spirit so, if you have a dream team who'd be interested in joining, send them here!